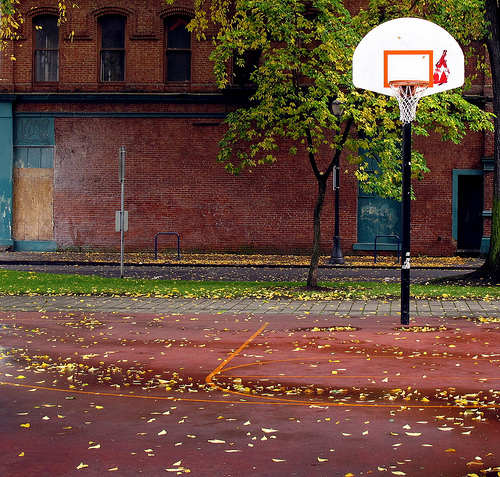 The school bell would ring, and like death and taxes, we would head to the CLC or local court to play hoops.   On weekends, guys would be lining the sides and baseline at 12th street just waiting for a game.  It was intense.  It's where we grew up.
During holiday breaks and in the summer, the morning sun would rise up over the horizon signaling another series of games.  I would spend the morning on my parents' house phone, confirming when my neighbors and friends would be able to come over and play basketball.  In the evenings, at least a couple of times a week, I would meet the normal crew up at the courts and play for hours.   We all loved playing basketball.  It was fun.  It was competitive.  It was what we did.
Between both of the above, my brother and I would play 1-on-1, game after game, or have shooting contests to see who would be the 3pt champion of the day.  Trash talk ensued.  Basketball was our breath.
Where is everyone?
Besides about two nights a week, I can drive by any of the various courts I live around and it looks like the aftermath of a going out of business sale.  Empty.
Where is everyone these days?
Too Many Options?
+250 cable channels.
Video Games.
Cell Phones.
Computers.
Of the four named, we did have a Nintendo, but the rest weren't part of society when I was coming up as a kid.  Cable television consisted of a handful of channels, no one had a cell phone, and computers were the things you did simple programming on at school, for an assignment.
I got my first block cell phone while in my freshman year of college.  It was HUGE!   It was so big, my buddy Sam would ask me not to answer it if we were in the car and at a red light (not that anyone had the number but my parents…haha!).
My parents got our first desktop computer around the same time.   In those days, hearing "You've Got Mail" was about as cool as it got and if you heard that you had a good day, haha!  There was no buddy lists full of friends, or facebook, or myspace, or twitter, or anything really.
Cable TV was cool, but you could go through all the channels forwards and backwards in about a minute.   Now you could spend an hour if you go through all the drop down menus and information that is displayed.
I feel like an old guy saying this (is 33 old??), but times were more simple and slower.  There just weren't so many options.
The cream always rises, but what about the rest?
The cream of the crop kids are getting better and better at everything.   That has a lot to do with what's available in other avenues as far as specialized training, well structured leagues and AAU ball all at a much younger age.
I don't think many of us ever heard of AAU until later in our high school life.  Camps…well there just weren't many.
So the best get better and the progression continues, but what about everyone else?   Where are the kids that just love to play basketball?  Where are the kids that may never play one second of college ball?
Does it now come down to basketball or Call of Duty (great game btw)?   Updating your status and tweeting or getting in shots?
Has the "average" player stopped dreaming?   Have the endless options persuaded kids to go with the thing they are best at first?
What are your thoughts?  Where are all the players these days?