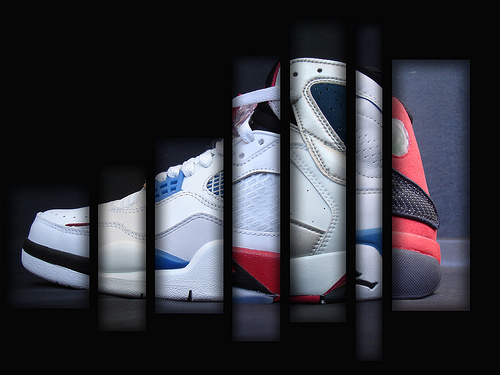 I know the feeling a woman has when a new bag comes out.  I know the feeling when she walks in the department store "just to look" and must have that dress.
I know the feeling a man has when that new car he's been reading about for months comes out.   I know the feeling when he walks into the Apple store "just to look" and must have that iPad.
I know the feeling a boy has when a certain pair of "special" basketball shoes are released.   I know how he feels as he approaches the shoe store, heart rate increasing, just hoping that they still have his size.
I know all of this because I was that boy.
Air Jordans
I got my first pair of Air Jordans in 1991.   I was 13 years old.
I was in the infantile stages of my basketball life, but those shoes made me feel like a pro!
In those days, I had two real opportunities each year to capture a pair of my very own Jordans.   Those being before the school year began and Christmas time.  Jordans were then and still are today, expensive athletic shoes.   I'm almost positive that the first +$100 pair of shoes my parents ever bought, were those Air Jordans in '91.
From then until I was capable of buying my own, J's were #1 on my wish list each and every year.
The Air Jordan craze was in full effect and I was a happy and thankful participant!
Mars, Mike and Nike ("It's Gotta Be The Shoes!")
[If you're reading this via e-mail or RSS the video might not show up, so click here to view it.]
Nike released a superb marketing campaign in 1988.   The spots were directed by Spike Lee, who also starred in the commercials as Mars Blackmon.   Mars was a Jordan fan and a guy just trying to figure out why Michael Jordan was so good.   In the initial television spot, following a series of questions on what made Mike the best, Mars surmised, "It's gotta be the shoes!"
It was brilliant!
"It's Gotta Be the Shoes,"captured every dreamer in America and beyond.   Anyone wanting to be anything in the game of basketball wanted those shoes.  People who didn't even play ball wanted those shoes.
Thought provoking for sure.  Maybe it was the shoes.  Could it be the shoes?  Could Air Jordans make me a better player?   I wanna be like Mike.  I want Air Jordans too!
Whenever I put on a pair of Jordans then, I would always feel I was capable of doing something I wouldn't be able to do in another "normal" pair of shoes.  Maybe my fadeaway was a bit better.   Perhaps I got a little bit higher on my jump shot or when I grabbed a rebound.
Air Jordans helped me to dream!
The Value of a Dream (Why Jordans MAY Be Underpriced)
What is the price tag for a breath of hope into a child's wildest dream?   How much should one charge if they can drive someone to dream greater and bigger than they would do on their own?
Jordans are pricey, but in the big scheme of things really a great value.
A great value when you consider that motivational speakers charge thousands of dollars to adults to do the same.   A great value when people everywhere charge for "how to get rich" or "how to do something better" books, instructional videos, and on and on and on.
Everyone is selling something and all capitalizing on the same thing…a person's want to be more.
So if +$100 pair of shoes can do that.  If they can make someone young or old think they can jump higher or play better, as they did for me as a youth.  If they can help someone to imagine life's possibilities, I say that's a good deal.  After all, if you can't envision it, you can't achieve it.
Still Kicking The J's
Twenty years later, I'm still sporting Jordans.  While I know they don't make me jump higher or help me make more shots, they do still help me to dream.
me vs. MJ…the journey and the dream are still very much alive!
Thanks for following along!
[If you're reading this via e-mail or RSS the video might not show up, so click here to view it.]