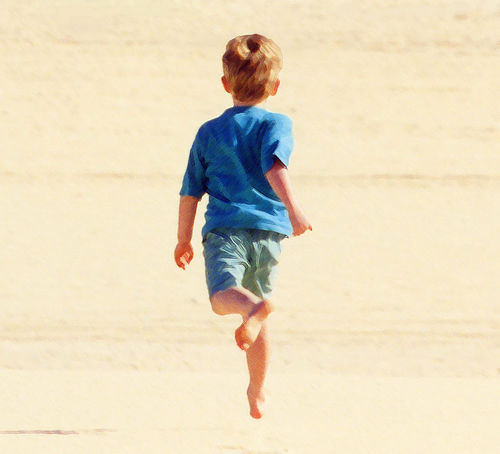 Two Sunday afternoons ago, just a couple of days after being dominated by Robert Brown, I hurt my back as I attempted to show my brother how high I could jump.
Following numerous games of one-on-one between myself, my bro and a friend, I let pride and FACT take over.
My brother had taken a series of pictures of me and my friend playing against one another.   In each of the photos, both of us were not more than a few inches off of the ground at what he said were the "peaks" of our jumps.
Now, I will never be known by my jumping ability, but these pictures were ridiculous.   I felt like when the Magic brought in Dwight Howard for his pre-draft workout and "mis-measured" his jumping ability, prompting Dwight to barely jump and say at the same time, "they said I was right here" and touch the previously incorrect mark.  Funny stuff for sure! 😀 (click here to watch the video.  Go to 1:56 for the fun to begin.)
So I, like Dwight had done years before with the Magic, had to show my bro just how off his photos actually were.
Owww That Hurts!
Three jumps in and I felt a twinge in the right side of my back.
I woke up the next day and could barely get out of bed.
The Back History
Around 12 or 13 years ago I hurt my back when I slipped on a wet spot in a gym, going up for a lay-in.   Since that point, there have been a handful of times where I move the wrong way on the court and my back freezes up on me.
Add that to the fact that I have some scoliosis going on and well, my back was never made as one might find in an anatomy book.   No big deal, it's what I've had my whole life.  I used to joke that had I not had scoliosis I would have been 6'6" like Jordan.
I saw the chiropractors and the massage therapists and nothing ever really seemed to help long term.  Rest was always the cure.
Not Too Concerned (I Can't REST Now!)
So with that history, I wasn't all that concerned even though pulling myself out of bed Monday morning was a struggle.   I had been through this all before.
Besides, how was I going to rest?  Mike Jordan wouldn't rest!  I needed to work on my game!
By the evening, with the help of some Advil, I was loose enough I wasn't going to let it stop me from getting my run in.   I ran my four miles, came home and relaxed and woke up Tuesday morning feeling the same way.  Stiff!
On Tuesday evening I decided not to play the normal half court games and instead work more on my one-on-one game with my brother.  It started off ok, then six points in, I could barely move.  It hurt to breathe.  I tried to push through, but was forced to stop.  My back was now worse than it had been!
My body had been telling me to slow down, but I didn't listen, so my back said ENOUGH and slowed me down itself.
w-REST-ling with Rest
So for the last week I've been wrestling with resting to say the least.  Incapable of moving laterally, I have bit down and listened to my body.  I stopped all physical activity.  It hasn't been easy though.
This past Saturday I was very close to going back out on the court to get some shots in, but after discussing with a few people, refrained.
A Health-y Appreciation
It's sad that it seems to always take an injury for me to fully appreciate the part of me that is injured.
I suppose most people go through life the same way.   We run, jump, run faster and jump higher and think nothing of it until a sickness or injury halts our movement.  Then we WISH we could just run and jump, even a little.
I feel like I'm being hit over the head lately with making the most of each moment.   This injury, like my brother calling me out, has me so anxious to get out and make the most of each day.
I really can't wait to get back on the court!
If You're Healthy And You Know It Clap Your Hands!
Hanging out with my 19 month old niece lately has put a lot of those children songs in my head.
Beyond the songs, hanging out with a little kid who has only been running for a handful of months, and is still trying to figure out how to make her body do exactly what she wants it to do, can give unbridled perspective.
When she runs through my house, she runs all out.  She doesn't hold back.  She doesn't get tired.  She doesn't want to be held.  She wants to RUUUUUUN!
A child appreciates everything because every single thing they are doing is so new.  It's freedom.  It's expression.  It's fun.
Thirty three years of life can wear away at that.  Let's be honest, it doesn't even take that long.
Get Out And Move!
The point is, if you can get out and run today, do it.  A lot of people can't.
If you can jump.  Get out from behind your desk right now and Jump!
If you can play basketball.  Go play!
There will always be time to clean the house and wash the clothes.  Always time to do some more work and make more money.   Always a reason NOT to take time to fully appreciate the gifts we've been given.
There WILL come a point in your life where you WON'T be able.
Don't wait until then to "wish you could".
GET OUT AND MOVE!
Note:  Below is a picture of the jump that hurt my back, but proof I can jump a little higher than a couple of inches. 😉
Note: I just started a mevsMJ.com Facebook page.  If you like what I'm doing here, do me a favor and click the like button on the page too!
  I've added a convenient way to do so here on the site, just to the right of this post.  Or you can go to the mevsMJ.com Facebook page by clicking here! Thanks!